"These employees are willing to live with a little less living so that victims can have a little more life."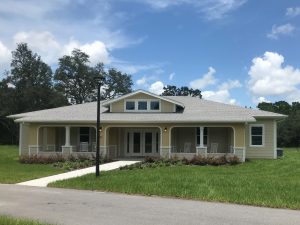 Why we're grateful to LazyDays Employee Foundation: Introducing "Gateway House" on Bridging Freedom's safe home campus. The building is a relaxing place where rescued sex trafficking survivors can breathe, feel secure, and begin to heal. It was made possible with the help of LazyDays Employee Foundation. The group knocked our socks off with an incredibly generous $350,000 gift in Nov. 2017.
Why they chose to help Bridging Freedom: Joe Meyers, the foundation's president, said, "This is a contribution from LazyDays' employees and our supporters to one of the most vulnerable parts of our community. We are thrilled to be able to do something that will change lives for the better."
How our community feels the impact: Our Board Chairman, Sheriff Corporal Alan Wilkett applauded the group's donations to help child sex trafficking survivors. He said, "These are acts of kindness, more than words. These employees are willing to live with a little less living so that survivors can have a little more life. Little young girls, who have had so much stolen, will start having something given back."
Get to know LazyDays Employee Foundation: This non-profit organization is run by volunteer LazyDays RV employees and Board members. It collects voluntary employee payroll deductions along with donations from customers and the community. Contributions support at-risk kids such as homeless youth and disadvantaged children. More than 500 employees across the country participate.
Fun fact: The foundation has always supported kids. They lent an RV to 9 year-old activist, Zach Bonner, (and his family) whose story became the 2012 film, The Little Red Wagon. Zach collected supplies for those displaced after Hurricane Charley, and then later dedicated his time and efforts to helping homeless children.
See more: View photos of campus progress.