Construction Update: February 2018
Please click to view this encouraging video of the site and home construction progress of the safe home campus community. We are thankful to our legislators and donors as we work together to establish a healing program for our rescued children.


Founders Progress Report
---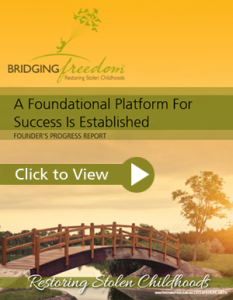 Thank you to all who have prayed, provided connections, partnered, volunteered, and donated.
Together we will restore stolen childhoods!
Bridging Freedom State Funding – Timeline of Appropriations, Contracts & Disbursements
---
Click on the image to download a PDF of our timeline.
If you have any questions, please email us at: Info@BridgingFreedom.org