After enduring the horrific crimes of sex trafficking, survivors are left to try to resume life as it was before. But, for these survivors life isn't the same as it once was. From dealing with PTSD and trauma to struggling with finances or homelessness, survivors are vulnerable and may find it extremely difficult to navigate life. As a result, approximately 80% of survivors are at risk of being revictimized and re-exploited with nowhere safe for them to go.
Instead of leaving survivors to fend for themselves, safe houses can help survivors get back on their feet by providing a safe place to sleep with essential resources. A safe house is a secure housing program designed to give survivors their own bedroom, bathroom, and stable environment. Many safe houses provide survivors with residential caretakers who can help heal trauma through therapy, mentorship, education, life skills, and recreational activities. Survivors are taught healthy coping habits and ways to heal their emotional wounds. Let's learn more about safe houses and what they can provide to sex trafficking survivors.
What Makes a Safe House Safe?
Even though safe is in the name, how can you be sure a safe house is actually safe? Well, thanks to Florida laws protecting confidentiality inside their designed safe house programs, safe houses are meant to only be known to the residents inside them. Since survivors are at high risk for exploitation, safe houses are a way to protect them while letting them readjust to life. Let's take a look at the following 3 reasons safe houses are actually safe:
Secure Location. Safe houses provide survivors with a secure and undisclosed residency. In the state of Florida, the location of a safe house is completely confidential. This means that no agency or person, even if they had previously stayed in a safe house, can disclose this information for the safety of protecting those in the safe house.
Licensed Professionals. Since the majority of survivors have experienced some form of sexual, physical, mental, and emotional trauma, safe houses hire licensed professionals to come in and provide services free of charge. At Bridging Freedom, survivors receive care from professional licensed nurses, a clinical director, clinical therapists, and board-certified teachers.
Mentorship and Guidance. Safe houses are designed to give the space and resources for survivors to heal. These services are not just limited to medical attention and therapy, but also give survivors the mentorship and guidance to continue with life outside of the house. By learning life skills, career development skills, and transitional mentorship, our survivors at Bridging Freedom are able to return to their life well-prepared and equipped.
How are Safe Houses Funded?
Since many safe house communities and programs are run by nonprofit organizations, they are funded by the support and generosity of the community. Safe houses partner together to work with agencies, social workers, religious groups, legal advocates, and medical and psychology professionals in order to give survivors a full care program. These funded safe houses are able to continue to invest in survivors to give them the necessary care.
Safe Houses | What to Expect
Safe houses are a great opportunity for a fresh start. It allows survivors to cope with their trauma and grief in a healthy environment with a strong support system. In comparison to a women's shelter, a safe house has more resources and a smaller ratio of survivors to supervisors in their program to ensure each person is getting individualized attention. Safe house programs allow the space for survivors to heal and grow before being reinstated into their routine. Even though every safe house has its own rules for its housing program, many have the following resources available.
Survivors can expect to get the following from a standard safe house:
A safe and private place to stay for up to 30 days
Food and water
Bed with clean sheets, pillows, and blankets
Bathroom facility with showers to use
Basic hygiene items including toiletries and clothing
Confidentiality
Counseling services
Legal assistance
While these resources are extremely beneficial to survivors, many will need more time than 30 days to work through their trauma. That is why Bridging Freedom is one of the few facilities nationwide that are able to provide long-term, holistic care for survivors. In addition to the list above, let's take a look at what else Bridging Freedom's Therapeutic Safe Home Community has to offer to survivors.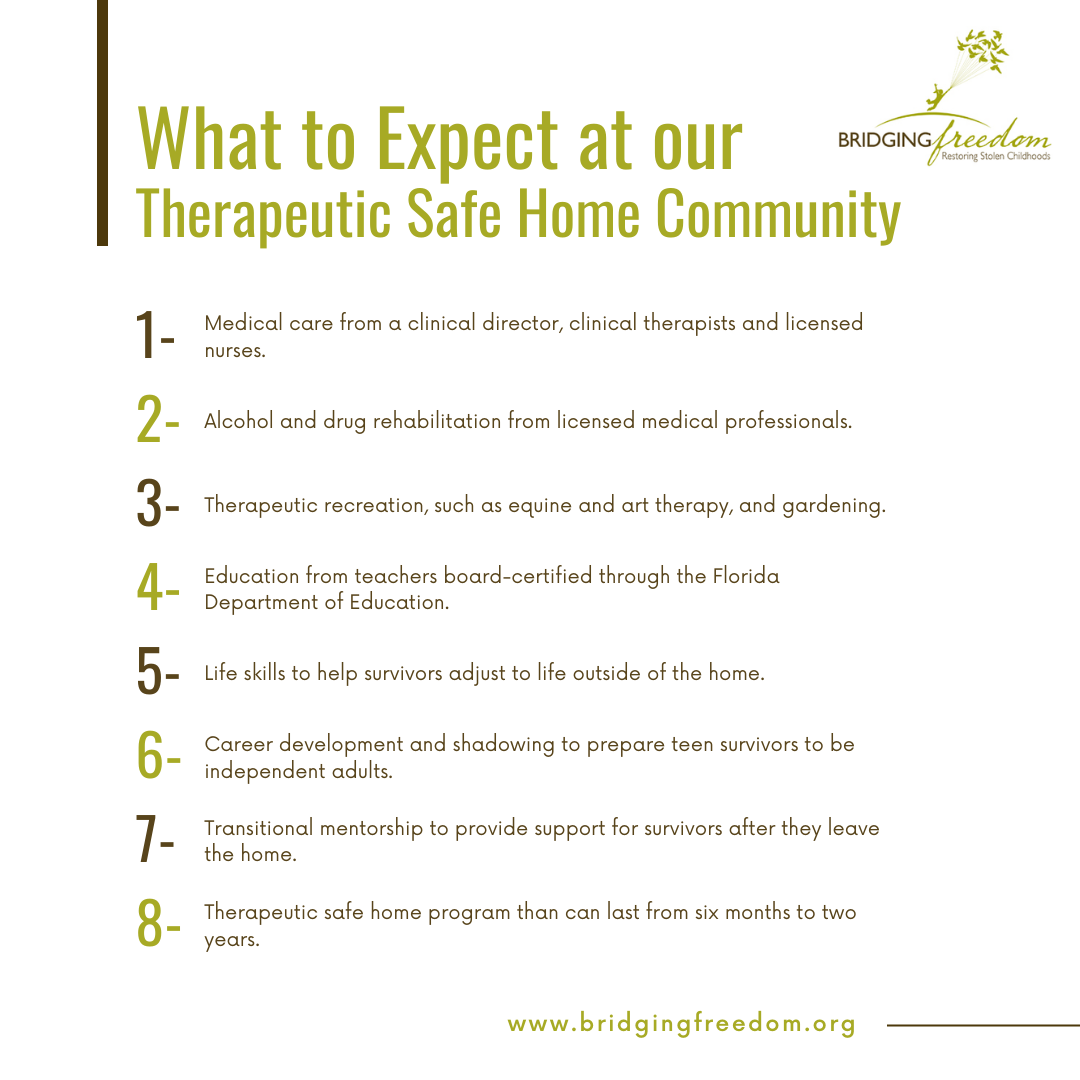 Our home campus in Tampa Bay is one of the first of its kind in Florida for rescued children and teens to receive long-term holistic care. Learn more about our holistic care approach and our program offers here.
How To Help
Of the 40 million human trafficking victims globally, 25 percent are children. Many of these children placed their trust in adults, yet were betrayed and exploited. At Bridging Freedom, our goal is to protect and nurture these children who are survivors of a horrific crime. You can help protect and nurture these children too by getting involved in 3 types of ways!
Ways to Give. Since Bridging Freedom is a 501(c)(3) nonprofit organization, we rely on your generosity to achieve our mission. From joining our Freedom League to making an online donation to purchasing major gifts, you can help provide the children at our program with the resources they need to get back on their feet!
Get Involved. Community involvement is what helps us grow our team and our mission. From attending events and fundraising to volunteering and serving, we are always looking for compassionate individuals who are wanting to get involved with making a change in children's lives!
Needs List. Additionally, we are always welcoming service and goods donations. Check out our Needs List to see if you can help contribute to our therapeutic safe home campus!
If you want to find out more information on how you can get involved at Bridging Freedom and make a difference in the survivors' lives, check out the following page.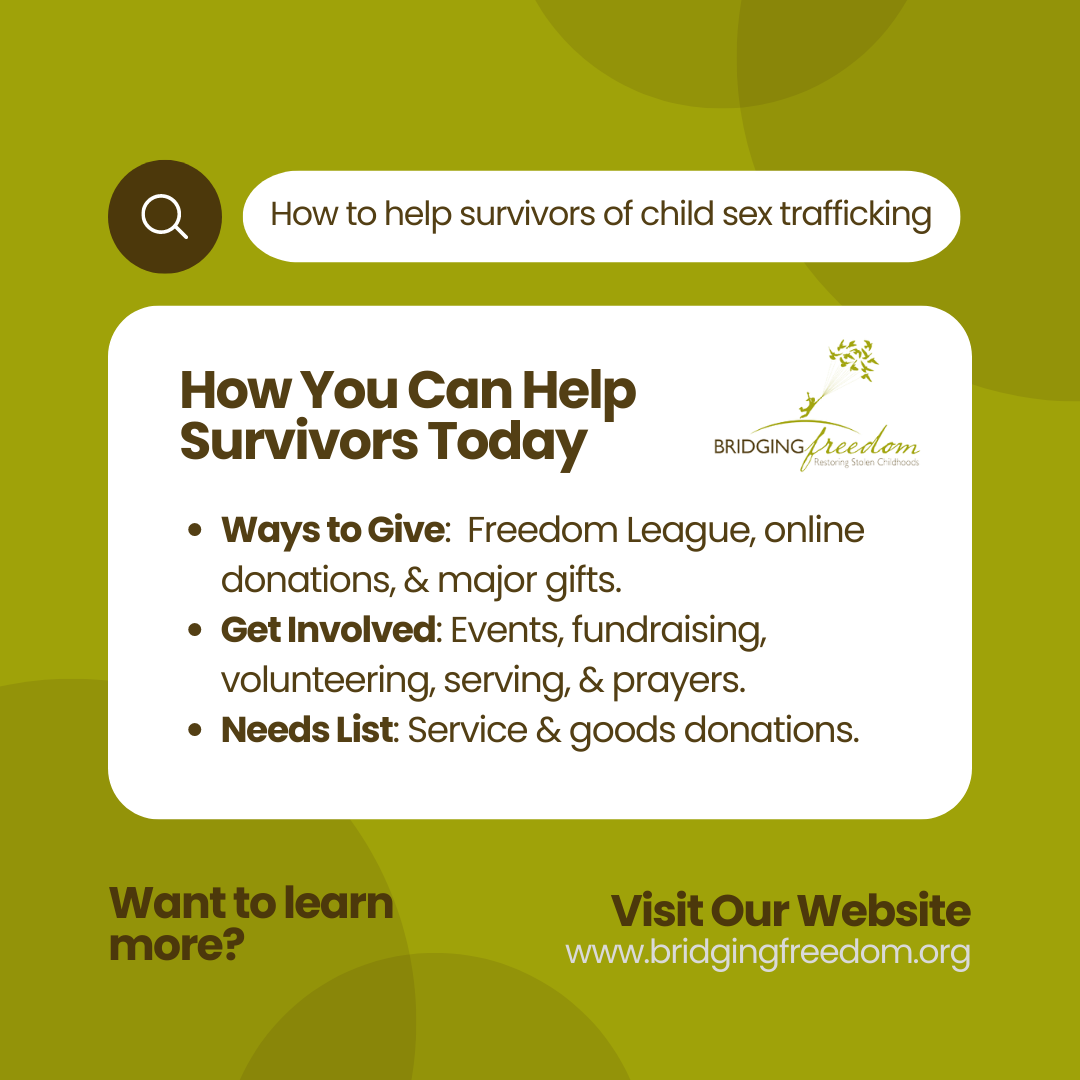 Therapeutic Safe Home Community at Bridging Freedom
The average safe house provides a 30-day stay which is longer than a women's shelter allows. Some may see progress in a shorter period of time, but the majority may need more time than what they are allowed to stay. This puts survivors at risk of being victims again by falling back into the system. At Bridging Freedom, we aim to give survivors adequate amounts of time to heal from their emotional, physical, and mental trauma. Survivors have the best opportunity for recovery when they are provided with a safe, long-term environment for individualized care. Our programs last from six months to two years to give our children enough time to heal and adjust to being a kid again.
Extra Resources:
Bridging Freedom | Restoring Stolen Childhoods
Our team serves as an advocate for restoring stolen childhoods. At Bridging Freedom, we aim to combat domestic minor sex trafficking through our restoration programs for rescued victims by providing a therapeutic safe homes for victims. Aside from providing services for victims, Bridging Freedom aims to educate the community about the horrors going on behind closed doors. Through partnerships with Clearwater / Tampa Bay Area Task Force on Human Trafficking, Tampa Bay FBI Innocence Lost Initiative, and St. Petersburg College Center for Human Trafficking Awareness, Bridging Freedom can help provide victims with a safe place and connect them to necessary resources. In order to allow us to continue doing what we do, Bridging Freedom relies on the generosity of our community of supporters. If you would like to be a part of our group of supporters, then you can donate at the page here.