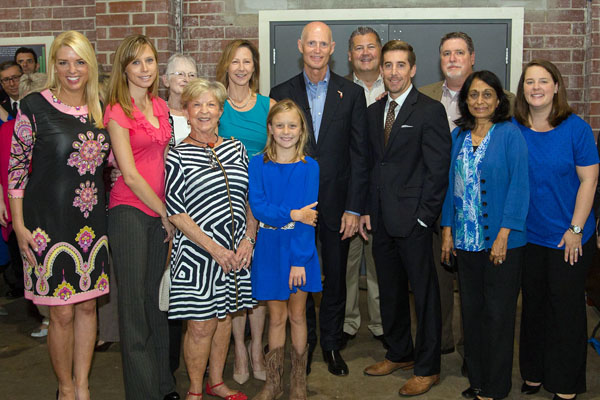 Founder and President of Bridging Freedom, Laura Hamilton, had the opportunity to thank the State of Florida and community partners of Tampa Bay at Governor Scott's press release as he ceremonially signed 4 human trafficking bills into law:
"It is an honor to be here to share Bridging Freedom's thankfulness to you, Governor Scott, for your passion to bring healing to our children. 

Thank you Attorney General Pam Bondi for your work in leading an outstanding team on the Human Trafficking Council to provide solutions to this crime that targets our youth at the average age of 12 years.

Many thanks to you, Representative Jeanette Nunez, for championing Bridging Freedom's project.  We appreciate your dedication to help bring this successful model to Florida.

A HUGE thank you to the community of Tampa Bay for coming together; for believing in and supporting a program that will end the cycle of Trauma Bonding.

A vision has become reality because of community champions that understand the power of linking arms. Our website recognizes everyone but to highlight a few, we appreciate so much Ed Kobel and his team at DeBartolo Development, Jon Johnson and Melanie Brown of Johnson and Blanton, a prestigious board of directors that have come together to help direct and advise, and to their families that support the time needed to do this. Many thanks to community clubs, such as the Tampa Women's Club and Hyde Park Rotary, churches such as Idlewild Baptist, Cypress Point Community, The Sisters of Charity of Leavenworth and many businesses and individuals.

It really does take the whole community to create the resources necessary to build and sustain this urgently needed safe home campus community.

We are thankful for the State of Florida's partnership of $1 million dollars to provide the site development on our nearly 100 acres donated by a local family foundation.

The State Funding will provide for all civil engineering, architectural drawings, geotechnical borings, permits, surveys, clearing, grading, retention ponds, well/septic/fire, electrical/hvac designs all the way down to the asphalt, sidewalks, and landscaping.

The State funding is also providing MOMENTUM for community partners to see progress and to join arms in building this healing campus community.

We appreciate you Governor Scott and Representative Nunez for recognizing the level of community interest and partnerships that have been formed to bring this project into reality and for providing funding to move the project into the next phase of development. Thank you Governor Scott.  Bridging Freedom will provide a beautiful and safe environment for these young girls to find healing, find hope, and find purpose!"
Nearly 100 donated acres will now be developed to move Bridging Freedom to the next phase of development.
Governor Rick Scott and Attorney General on human trafficking:

Bridging Freedom President Laura Hamilton speaks about $1 million grant from the State of Florida:

Your partnership is needed in our next step of building the homes, lodge and equine therapy barn.
Many sidewalks, made with paver brick messages from the community, will traverse to gazebos, organic vegetable gardens, butterfly gardens, equine therapy, art therapy and many activities that instill interests and knowledge that she is creative and talented.
Join arms. Name a room after your company, organization or loved ones.
Each warm and traditional home will provide a rescued child with her own bedroom and bathroom providing an opportunity to find peace from all she has endured.
Partner today to give her a new chance in life.
Request a presentation today to learn how you can partner. Email: Laura@bridgingfreedom.org
How to Help: