In the heart of Polk County, Florida, a local hero stands out as a beacon of unwavering commitment to his community. Sheriff Grady Judd, a name that resonates far beyond the county lines, is an unshakable force in the realm of law enforcement. From championing the protection of our most vulnerable, our children, to orchestrating intricate undercover operations, Sheriff Grady Judd stands as the leader in the pursuit of reducing crime in the region.
Today, we are thrilled to cast a well-deserved spotlight on Sheriff Grady Judd, a local hero whose remarkable journey, countless achievements, and unparalleled dedication to our community's safety have left an enduring mark. Join us as we celebrate the local hero who tirelessly ensures the peace and security of Polk County.
Get to Know Polk County
As one of Florida's fastest-growing counties and the seventh in the nation, Polk County is home to cities such as Lakeland, Winter Haven, Davenport, and Bartow. An hour south of Orlando, Polk County has seen a rise due to theme parks like Legoland, the Florida Children's Museum, and the Lakeland Flying Tigers.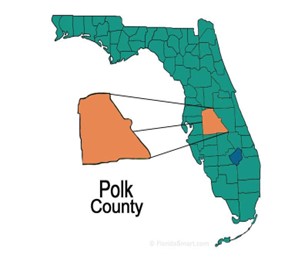 With such an increase in residents, the area also presents new opportunities for crime. However, rest assured, when it comes to safeguarding our beloved county, Sheriff Grady Judd is on vigilant watch.
Get to Know Sheriff Grady Judd
Sheriff Grady Judd started his distinguished career with the Polk County Sheriff's Office in 1972, initially serving as a dispatcher. After making a pivotal move to the Patrol Division in 1974, he would go on to hold every rank from Sergeant to Colonel.
In 2004, Polk County resoundingly elected Sheriff Judd to lead as their Sheriff. Over the course of the following 19 years, Sheriff Judd has tirelessly dedicated himself to the mission of enhancing the safety and security of our community.
Under his steadfast leadership, the Polk County Sheriff's Office has taken decisive action to combat prostitution and child sex trafficking operations within our region. Sheriff Judd's unwavering commitment to justice has brought justice to countless families and, in doing so, shielded others from the devastating consequences of unimaginable hardships. His legacy is one of adamant dedication to the well-being and protection of Polk County's residents.
Education
Sheriff Judd's educational journey has been nothing short of impressive. After graduating from Lakeland High School, he continued to pursue higher education, achieving both Bachelor's and Master's degrees from Rollins College.
His commitment to excellence extended beyond the classroom as he graduated from prestigious institutions such as the FBI National Academy, 168th Session in 1992, the Senior Management Institute for Police, 20th Session in 1997, the FBI Law Enforcement Executive Development Seminar, 47th Session in 2003, and the FBI National Executive Institute, 30th Session in 2007. Additionally, Sheriff Judd participated in the Jewish Institute for National Security Affairs (JINSA) Law Enforcement Exchange Program (LEEP), further enriching his diverse and extensive background.
Sheriff Judd's educational background, complemented by decades of specialized training, reveals his dedication to serving his community with excellence and professionalism.
Awards:
Sheriff Grady Judd's remarkable career in law enforcement has been marked by numerous accolades and honors. Each of these awards have been earned through his unwavering dedication to public service and community welfare. These awards not only highlight his exceptional contributions, but also reflect his commitment to making Polk County a safer place.
Among the noteworthy awards and recognitions:
Sheriff of the Year, by the Major County Sheriff's of America (2022)
Person of the Year, by Ledger's Best of the Best (2016, 2017, and 2018)
Humane Law Enforcement Award (2018)
Cornerstone Hospice Hero Award (2016)
Sons of the American Revolution Good Citizenship Award (2015)
School Safety Advocacy Council National Anti-Bullying Recognition Award (2014)
Church Women United Human Rights Award (2013)
Callyo's Leaders in Online Child Protection Award (2013)
Polk County School Board Hall of Fame Inductee (2013)
Junny Award, Protect Our Children (2011)
Boy Scouts of America Distinguished Citizen Award (2008)
Polk Community College Distinguished Alumni Award (2003)
Community Impact | Protecting Children in Florida
Sheriff Judd's unwavering commitment to the safety of children stands as one of his highest priorities. With the perspective of a father to two adult sons and a grandfather to 13 grandchildren, he excels in the realm of child safety. His dedication extends beyond words, manifesting in his resolute actions aimed at ensuring the safety of Polk County's youngest residents. This steadfast commitment to his community is further revealed through his remarkable impact in several key areas:
Combating Sex Trafficking and Child Exploitation: Sheriff Judd's dedication to safeguarding children is a cornerstone of his tenure. Multiple times a year, his undercover unit carries out operations to apprehend individuals attempting to engage in illicit activities with minors. These sting operations have garnered the respect and support of Polk County residents, both Republican and Democrat.Sheriff Judd's resolute stance on child protection is evident in his words: "Protecting the children is my No. 1 top priority, period. They don't have any choice over who they're with, what food they eat, what clothes they wear, where they're going."
Tackling Criminal Activity Involving Children: Sheriff Judd's devotion to children's safety extends from his role as a law enforcement official to his personal life as a father and grandfather. In response to the rise in criminal activities involving children, Sheriff Judd leaves no room for ambiguity: "We're not going to have it. We're not going to accept it. So we've got all the law enforcement authority in the state of Florida, in the United States of America, working to keep these kids safe, whether they like it or not."
Service to the Community: Beyond his duties as sheriff, Sheriff Judd has left an indelible mark on the community. He has served as a professor at prestigious institutions such as the University of South Florida and Florida Southern College for 23 years. His commitment to law enforcement extends to leadership roles as he has served as President of the Florida Sheriffs Association and the Major County Sheriffs of America.
Future Goals
Sheriff Judd's dedication to Polk County's well-being is unwavering, and his future plans reflect this commitment through:
Increased Deputy Recruitment: Recognizing the continuous population growth in Polk County, Sheriff Judd has outlined a strategic initiative to hire an additional 70 deputies. This expansion is not only aimed at bolstering law enforcement efforts, but also addressing the needs of a rapidly growing Hispanic population in the area. Sheriff Judd is actively seeking bilingual officers who can effectively communicate with and represent our Spanish-speaking communities.
Enhanced School Security: In response to a tragic school shooting in Nashville earlier this year, Sheriff Judd advocates for armed security personnel on private school campuses. In 2022, he sent out letters to private schools and daycares across the county inviting them to participate in the Sentinel Program. This program equips school staff with the skills and knowledge necessary to ensure the safety of students and educators during an active shooter incident.
Continued Service: Sheriff Judd's enduring commitment to the community is evident in his consistent re-elections since 2004. With no intention of slowing down, he plans to continue to run for re-election for his sheriff position. His dedication to serving as sheriff for the people of Polk County remains steadfast. Sheriff Judd sums it up by saying, "I've spent a lifetime creating a life around this crazy schedule. I'm planning to run again. I'm healthy. If I were governor, I'd be term-limited. I can be the sheriff forever."
Bridging Freedom
Based in Tampa, our team serves as an advocate for restoring stolen childhoods across the State of Florida. We strive to combat domestic minor sex trafficking through our restoration programs for rescued victims by providing therapeutic safe homes for victims. Aside from providing healing services to victims, Bridging Freedom also works to educate the local community about the horrors of human trafficking in Florida.
Through partnerships with local law enforcement leaders, such as Sheriff Grady Judd, Bridging Freedom helps provide victims with a safe place and connect them to necessary recovery resources. In order to allow us to continue our work, Bridging Freedom relies upon the generosity and collaboration of our donors. If you would like to donate, then please visit the donation webpage here.
Resources:
Photo Credit: By Desmond Harris – http://www.polksheriff.org/about/sheriff-grady-judd, CC BY-SA 4.0, https://commons.wikimedia.org/w/index.php?curid=115684791