Did you know that kids and teens in the U.S. are lured into sex trafficking traps EVERY DAY?
The true number of sexually exploited children is unknown due to the secrecy that surrounds this issue. It's estimated that hundreds of thousands of children are exploited each year.
Some are runaways, some are in foster care, and just as many are middle-class kids who could live in your neighborhood.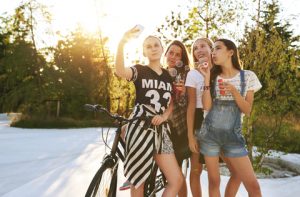 Let's protect our communities:
1. Recognize recruiters
The people who lure kids in your community could be adult men ("sugar daddies"), boyfriends, or even young women who already work for a pimp. Traffickers scout for potential targets in school, at the mall, schools, music festivals, restaurants, and libraries. Exploiters may say they are recruiting for modeling, movies, or strip clubs. Some invite victims to what sounds like an amazing party.
Ask questions about your kids' friends, invite them to your house, and talk with their parents. Find out what they do for work.
Watch out for:
An older boyfriend who is controlling, secretive, or rarely comes to your house.
A child's friend who is in frequent contact with someone (such as checking in via text often to get "permission" to go places or be with your child)
A new friend with a "glamorous" lifestyle or provocative dress
Someone who seems to be 'guarding' a teen or keeping an eye on them from a distance
Call the National Human Trafficking Hotline toll-free (1-888-373-7888) to get confidential help, report abuse, or learn more.
2. Look out for luxury lures
Traffickers entice young people with designer clothes and expensive gifts. They may take girls to get manicures or hair styling. If your child has a new cell phone or other pricey new item, find out where it came from and confiscate it.
3. Monitor social media sites
Is your child active on Instagram, Facebook, Musical.ly, WhatsApp, Snapchat, or other social websites? Recruiters use these sites to find victims for teen sex trafficking. Predators contact kids online and trick them with big promises and seductive talk. They might pose as fellow teens asking for photos or a private chat (DM or direct message). Some pretend to be bigwigs offering internet fame, stardom, and paid sponsorships. Make it a practice to talk to your child about these dangers and check their devices.
4. Educate kids
It may be tough to convince kids they're being duped. Pimps play into kids' dream of being a viral internet celebrity. You can:
5. Ask about tattoos
Tattoos are often used by pimps as a way to brand victims. Be especially interested in tattoos of a name, symbol of money, king's crown, or bar code.
Please share this information with fellow parents and others in your community. The wider the web of protection, the safer our children will be.