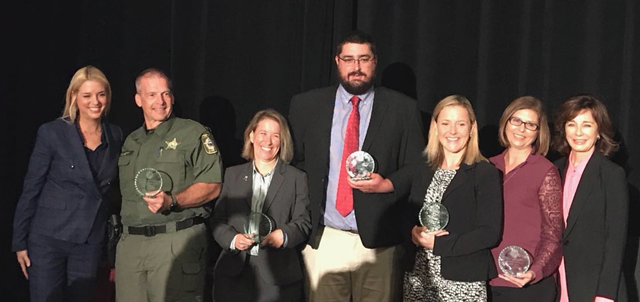 Many thanks to Attorney General Pam Bondi and her office for hosting the 2017 Statewide Human Trafficking Summit. It was encouraging to be among many organizations that came together to share their knowledge, experiences and passion to put an end to human trafficking. Three of Bridging Freedom's board members participated in the conference including Corporal Alan Wilkett, Chairman of Bridging Freedom's Board of Directors, Terry Coonan, director of the Center for the Advancement of Human Rights at Florida State University www.cahr.fsu.edu and a member of General Bondi's Statewide Council of Human Trafficking, and Laura Hamilton.
Congratulations to Corporal Alan Wilkett on your award for Law Enforcement Official of the Year at the 2017 Human Trafficking Summit in Orlando, FL! Many people are passionate about doing something to fight against the crime of human trafficking that targets our most vulnerable, and Corporal Wilkett, Chairman of Bridging Freedom's Board of Directors, is one of those passionate people that has entered this fight with such a determination that he truly intends to drive this crime out of existence. He has poured his entire being into taking action to provide awareness and trainings to our community, prevention resources to our vulnerable, collaboration building among stakeholders, development of county resources for anti-human trafficking initiatives, a voice to state agencies and legislators, as well as giving the ultimate sacrifice to put himself at risk in rescuing victims of human trafficking. Corporal Wilkett not only works intently in all these things but completes the spectrum of involvement in helping to build and implement a safe home campus community for child sex trafficking victims. Corporal Wilkett lives and breathes to do all that he can to provide a sustainable impact in this fight against human trafficking.
Florida Politics wrote an informational article of the Summit's events and mentioned Corporal Wilkett and the additional awardees honored by Attorney General Bondi:
"Corporal Alan Wilkett, Law Enforcement Official of the Year—Corporal Wilkett led the Pasco County Human Trafficking Task Force on several sweeps and trained more than 2,000 community members through the Pasco County Commission on Human Trafficking. Corporal Wilkett actively works with local government offices, local healthcare provider Baycare, the local community and non-profit organizations like Bridging Freedom, where he serves as a board member." (>>>read more here)
We are so proud of Corporal Wilkett and so honored to have him lead of our team of esteemed board members!