2017 Human Trafficking Summit Law Enforcement Official of the Year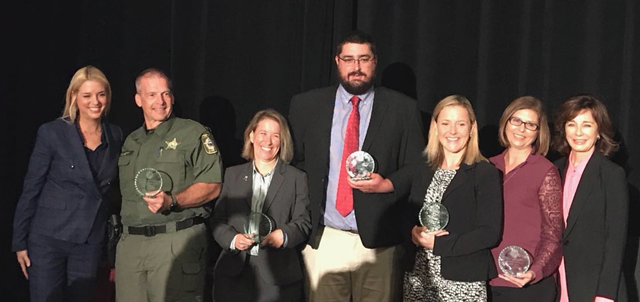 Many thanks to Attorney General Pam Bondi and her office for hosting the 2017 Statewide Human Trafficking Summit. It was encouraging to be among many organizations that came together to share their knowledge, experiences and passion to put an end to human trafficking. Three of Bridging Freedom's board members participated in the conference including Corporal Alan Wilkett, Chairman of Bridging Freedom's Board of Directors, Terry Coonan, director of the Center for the Advancement of Human Rights at Florida State University www.cahr.fsu.edu and a member of General Bondi's Statewide Council of Human Trafficking, and Laura Hamilton.
Congratulations to Corporal Alan Wilkett on your award for Law Enforcement Official of the Year at the 2017 Human Trafficking Summit in Orlando, FL! Many people are passionate about doing something to fight against the crime of human trafficking that targets our most vulnerable, and Corporal Wilkett, Chairman of Bridging Freedom's Board of Directors, is one of those passionate people that has entered this fight with such a determination that he truly intends to drive this crime out of existence. He has poured his entire being into taking action to provide awareness and trainings to our community, prevention resources to our vulnerable, collaboration building among stakeholders, development of county resources for anti-human trafficking initiatives, a voice to state agencies and legislators, as well as giving the ultimate sacrifice to put himself at risk in rescuing victims of human trafficking. Corporal Wilkett not only works intently in all these things but completes the spectrum of involvement in helping to build and implement a safe home campus community for child sex trafficking victims. Corporal Wilkett lives and breathes to do all that he can to provide a sustainable impact in this fight against human trafficking.
Florida Politics wrote an informational article of the Summit's events and mentioned Corporal Wilkett and the additional awardees honored by Attorney General Bondi:
"Corporal Alan Wilkett, Law Enforcement Official of the Year—Corporal Wilkett led the Pasco County Human Trafficking Task Force on several sweeps and trained more than 2,000 community members through the Pasco County Commission on Human Trafficking. Corporal Wilkett actively works with local government offices, local healthcare provider Baycare, the local community and non-profit organizations like Bridging Freedom, where he serves as a board member." (>>>read more here)
We are so proud of Corporal Wilkett and so honored to have him lead of our team of esteemed board members!
---
Campus Construction Update July 2017
Many thanks to our supporters in Tallahassee for helping Bridging Freedom to succeed!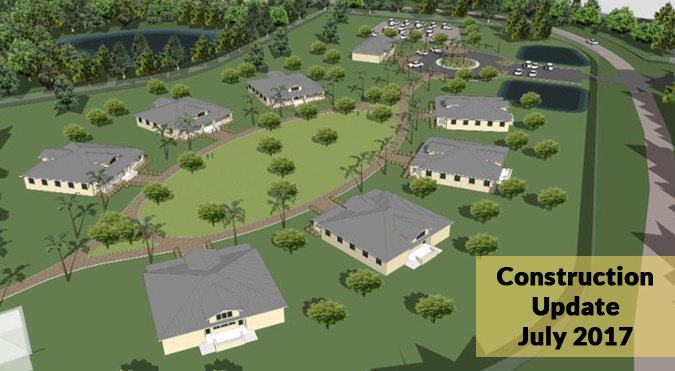 We want to especially thank:
Senator Jack Latvala, Representative Jeanette Nunez, Senator Tom Lee,
Jennifer Wilson, and Melanie Brown of Johnson and Blanton!
Each have dedicated so much of their time and energy to correct our funding category so that funds can be dispersed.
Unfortunately, a year of building was lost due to this issue but we are encouraged that we can now move forward because of the efforts of these champions! The land development is currently underway again and the construction of two homes are expected to begin in October and open by the Spring of 2018.
We are honored to work with the State and community to help rescued young girls begin their healing through Trauma-Informed Care, Health Management, Education, Life Skills, and Equine, Art and Music Therapeutic Activities.
Thank you Legislative Team!

---
Sykes Enterprises Sponsors First Home at Bridging Freedom
With heartfelt gratitude, Bridging Freedom is honored to partner with
Sykes Enterprises as our First Home Sponsor!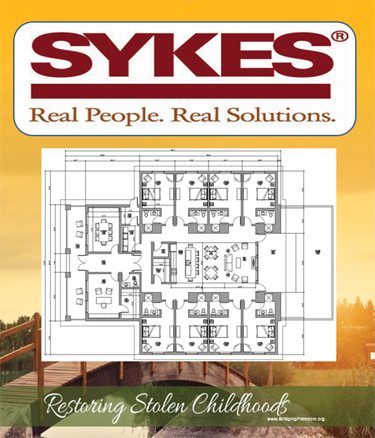 If you were at our Breakfast for Her event in March, you heard Mr. Chuck Sykes speak of his passion to help our most vulnerable children.
Sykes Enterprises is sponsoring an 8 bedroom/8 bath home to provide a warm and caring environment for young girls to receive therapeutic care, education, a full schedule of activities, and the chance to succeed in their lives.
Thank you Sykes Enterprises!
---
USF Alpha Phi Sigma Banquet March 2016
The members of the USF Chapter of Alpha Phi Sigma honored Bridging Freedom with a $1,000.00 donation to support victims of child sex trafficking.  Laura Hamilton was also honored by the USF Student Government Senate with a Senate Resolution. Thank you Alpha Phi Sigma and Student Government Senate for all of your hard work to raise funds and to bring awareness to your community!  It was a very special evening and we are very proud to partner with you!
Event photos:
---
State of Florida Funds $1 Million to Bridging Freedom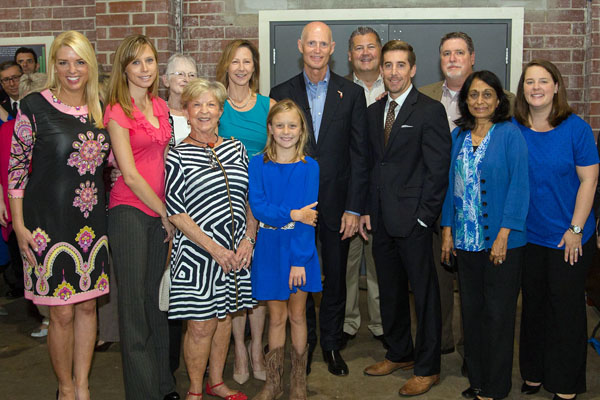 Founder and President of Bridging Freedom, Laura Hamilton, had the opportunity to thank the State of Florida and community partners of Tampa Bay at Governor Scott's press release as he ceremonially signed 4 human trafficking bills into law:
"It is an honor to be here to share Bridging Freedom's thankfulness to you, Governor Scott, for your passion to bring healing to our children. 

Thank you Attorney General Pam Bondi for your work in leading an outstanding team on the Human Trafficking Council to provide solutions to this crime that targets our youth at the average age of 12 years.
Read more »
---
Emotions in the Workplace
America demands money of its residents. The need for money requires gainful employment. Survivors are no exception. When a victim of human trafficking can surpass the hurdles of solicitation convictions and the like, they still have massive obstructions to overcome in the workplace. The ability to take constructive criticism and apply it to one's work is essential to keeping a job and consistently making strides toward success.
If you love learning, you love the discipline that goes with it— how shortsighted to refuse correction! (Proverb)
Indeed this passage holds a great amount of truth. The problem faced by many recovering abuse or human trafficking victims is that they are extremely hypersensitive to being told they are not doing something correctly, especially after their best efforts have been put forth. Often, the small amount of self-esteem mustered together to offer their work to be viewed publicly is easily crushed if they receive any negative feedback, which is standard (often referred to as constructive criticism) in today's society.
Read more »
---
The Rapid Rise of Unaccompanied Children in the United States
Our followers may find the following blog informative. We did.
The Rapid Rise of Unaccompanied Children in the United States.
---
Aloe Gel and a Rocking Chair
Human nature is to test our surroundings, see what our limits are and above all, survive. Many times victims of human trafficking, abduction, rape or domestic violence are often forced by their friends and family to think of ways the situation could have been avoided. They may hear some of the following:
*There were so many red flags. Why didn't you see them?
*If only you'd… this would have never happened.
*You need to take responsibility for your mistakes in this situation.
Although these arguments may satisfy an innate desire to place blame, avoid a problem that has already occurred (denial) or punish the victim because the trafficker is not accessible (projection), they are very debilitating to a victim.
Read more »
---
Response from a Survivor
Dear Encourager,
I feel like a child again for the first time in six years. My heart is fresh, throbbing with excitement. The pores of my spirit have been flushed clean by the Living Waters of my Savior who never turned His back on me, even when I couldn't even bare to look at myself. Being rescued through Jesus and those who chose to fight for me seems like a dream that I cannot fully comprehend. However, it is hard to remove the deep hesitation within.  How am I supposed to trust anyone, including God, when I've been treated as a disposable object night after night by so many? Those who were supposed to care did not. They saw right through me. Others seemed like monsters, performing unfathomable acts at my expense.
Read more »
---
One Who Has Gone Before You
A letter from one survivor to another:
Dearest Strong One,
It is with earnest prayer and love that I write you this letter. We've never met, but today I have been praying for you.
There is a story in the Bible about three men who were thrown into a fire to be put to death because they would not worship a king other than the One True God. God delivered them from their adversaries, "then the high officers, officials, governors and advisers crowded around them and saw that the fire had not touched them. Not a hair on their heads was singed, and their clothing was not scorched. They didn't even smell like smoke" (The Bible, Daniel 3:27).
Read more »
---